Providing you with the skill set needed to conduct a professional home inspection and the tools and training to start and expand a successful business. We stand behind our home inspector training unconditionally with support 12 hours a day, a 30-day money-back guarantee and a personal commitment to your success.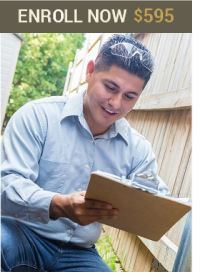 Welcome to North America's most trusted school for home inspector training and certification. Over the past two decades PHII has successfully trained and certified over 20,000 home inspectors in the U.S. and Canada. In fact, we founded the industry's first online home inspection training and certification program. We provide a national home inspection course you can complete online at your own pace, and you can attend face-to-face home inspector field training at our classroom facility for no additional fee.

We provide quality home inspector training at an exceptional value with over $1,000 of value-added bonuses. All students receive free home inspection report software for unlimited devices, a $399 savings, plus a free business website with online credit card processing and online home inspection report delivery. PHII will help you establish a turn-key home inspector business without breaking the bank.

PHII's home inspection course also includes lessons on mold and allergens, radon and commercial home inspection for a complete training portfolio at the industry's lowest price-point. You can generally recoup the entire cost of home inspector training and equipment with your first two home inspections. PHII's state-approved online home inspection certification course or classroom training will help you gain the knowledge and skills needed to become a certified and licensed home inspector, start quickly and stand out as a qualified professional.

Learn About Training For Your State

Home Inspector Education Topics

What PHII Can Do for You

PHII can help you enter the home inspection industry or expand your current home inspector business to include mold inspection or mold remediation certifications, NRSB-approved radon testing, energy audits, weatherization, infrared thermography, odor remediation services and much more!
PHII offers over 30 courses with more than 800 hours of training and numerous certifications to help you learn more, earn more and grow your home inspection business.
We offer continuing education for home inspectors, equipment, report software, and marketing support to help get your home inspection business up and running. At PHII our mission is to provide you with the best home inspector training to prepare you for a successful real estate career, along with the support you need down the road. PHII trained home inspectors are never alone.


PHII's home inspector training courses are truly at your pace. Every online course comes with instant access and can be completed in 1-2 weeks, or you can take as much time as you need. You always have access to PHII course material and support, plus graduates receive a free 1-year membership in the non-profit National Society of Home Inspectors (NSHI), an additional $199 value.
Why Choose PHII Home Inspection Training?
PHII's home inspection school will help you become a home inspector at your pace, quickly or slowly. Our goal is for you to become a qualified home inspector regardless of the length of time needed. We stand behind our home inspection training unconditionally, will help get your home inspection business rolling and are ready to assist you down the road with support whenever you need it. PHII has a proven record of success over two decades as a top-rated home inspection school. There are many reasons to choose PHII training:
Better Business Bureau A+ Rated
State Approved Training Courses
Highly-experienced Instructors
Specialists in Home Inspector Training
Online and Classroom Training Options
Lifetime Access to Training Courses
Most Affordable Home Inspector Tuition
Free Home Inspector Association Membership
Free Website with Report Delivery Feature
Free Home Inspection Report Software
Mold, Radon, & Commercial Inspection Lessons
Unconditional 30-day Return Policy
Live Support 12 hours a Day, 6 Days a Week
PHII sets the standard for quality home inspector training at an affordable price. We believe in service first and have always offered our students a free training lab at our facility. We were the first home inspection school to offer a hybrid live training component to go with our interactive online training for home inspectors. PHII's online home inspector training provides a proven interactive learning solution with lesson pre-tests and post-tests, flash cards, video, feedback and the human support element that is so critical to success. With tens of thousands of home inspectors trained over 20 years, PHII remains the leader in online home inspection training. And with our support system, a PHII-trained home inspector is never alone.
Home Inspector Training Course Material
PHII's courses are approved by real estate and building commissions, and major insurance providers. We are also affiliated will major professional associations including ASHI, NSHI, CREIA, FABI and many other home inspector organizations. Our course material is aligned with national standards of practice for home inspection and is updated regularly to meet state licensing requirements. We teach you the key information that you must inspect for and include in your final home inspection report. Every lesson is concise and written in clear language that is easy to understand. Lessons are designed in-house by experienced and qualified instructors who understand how to conduct a home inspection and how to teach the process. We also include lessons on mold and allergens, radon, and commercial home inspection so that you can decide whether to pursue additional certifications.
Home Inspection Training Course Features
PHII offers the most complete, self-paced home inspection course on the market today. You receive instant online access along with a package of course materials for offline use. Our course management system is unmatched in features and interactive technology. In fact, we designed the online course management software that many companies now use to train their employees. You can take PHII's home inspector training course on almost any electronic device including tablets and smart phones, and the course can be completed in as little as 1-2 weeks. Unlike most online courses, there is no time limit, so you can take as much time as you need and finish at whatever pace you set, quickly or over time. Your access to our course system never expires. Below are some features of the PHII home inspector training course:
Online Interactive Instruction
Diagrams, photos and videos
Printed course manuals to use offline
Online exams and progress manager
Supplemental DVD aligned to lessons
Interactive Flash Cards that test your knowledge
Beginner level courses that teach fundamentals
Advanced level course that expand knowledge
Lessons on ancillary inspections including mold, allergens, radon, and commercial Inspections
Checklists and forms aligned to each lesson
Editable Home Inspection Report Templates
Free cloud-based Home Inspection Report Software
Sample pre-inspection agreement
Concise lessons and hands-on field activities
Start-up business guides and marketing materials
Lifetime Home Inspector Certification
PHII graduates are lifetime-certified and can return to refresh their training at any time for free. With some home inspector training providers you remain a certified home inspector only as long as you continue to pay annual dues. Your PHII home inspector certification is a permanent credential you can proudly display for your entire career with no recurring certification charge. You can also add your PHII Trained and Certified logo on your website or home inspector marketing materials.
Turn-key Services for PHII Graduates
Home inspectors need special websites where customers can order home inspections online and later download their completed home inspection reports. These websites are costly to have created and also to maintain. However, PHII provides graduates with a free 1-year business website subscription to InspectHost.com, our e-commerce solution for home inspectors that includes a home inspection ordering system, payment tracking, credit card processing and e-delivery of reports. InspectHost provides a great turn-key system for promoting your home inspection business online and serving as a resource for existing customers. PHII graduates also receive a free membership in the National Society of Home Inspectors (NSHI), a national non-profit home inspector association for the United States and Canada.
Unmatched Student Support
PHII is different. No one is paid a sales commission and everyone is here to help you succeed. Our purpose is to provide a great training experience for our students. You deal directly with experienced staff and instructors at our school location who are here everyday to help our students from start to finish. The same staff that provides information about our products will be there to help you with ongoing support as you start inspecting, run into something strange and have questions or need a second opinion. We provide you with help and mentorship from well-qualified instructors who are here 6 days a week to provide support. We are the only home inspection school that guarantees your satisfaction unconditionally (we always have), and graduate support for life.
What Makes A Good Home Inspector?
Home inspectors use observation skills to determine the condition of real estate property, usually after a client has signed a conditional agreement to purchase that property. A home inspector spends 2-3 hours at the property examining the grounds, structure, exterior, roof, plumbing, electric, insulation, ventilation, interior, attic, bathrooms, kitchen, basement, crawlspaces, heating, air conditioning, and garage or carport. National standards of practice determine which components are inspected and how they are inspected. The home inspector later provides a written home inspection report to the client. If problems were found, the client may use the home inspection report to require the seller to correct the problems or to re-negotiate the sales price of the home.

To be successful, a home inspector must understand the interdependent systems in a home, evaluate different components and recognize potential problems. If you have an interest in the real estate field, have an eye for details, communicate well and enjoy the challenge of running a business, then becoming a home inspector is likely a safe bet. The most successful home inspectors see their job as helping their clients better understand the home they own or want to purchase, so that the client can make an informed choice. PHII's home inspector training will help prepare you to compete in today's home inspection service market.
What Income Does A Home Inspector Earn?
According to the Bureau of Labor Statistics, home inspectors earn an average annual salary of approximately $60,000, with the top ten percent averaging over $90,000. Home inspection is a growing occupation in the U.S and Canada. As many older home inspectors retire, there is an even stronger demand for qualified individuals to start careers as home inspectors. The vast majority of homes sold this year will have a pre-closing home inspection performed. Home inspectors typically charge between $400 and $600 to inspect the average home depending on the region of the country and the size of the property. An estimated 5 million home inspections are conducted in the United States each year.
What Are the Steps to Getting Started with Home Inspection?
The first step is to check our State Licensing page to determine the home inspector licensing requirements in your state, then to select the best training option, whether it's classroom or online. For online home inspection training, consider PHII's proven interactive online training system. PHII offers the most affordable tuition in the home inspector training industry. We provide up-to-date home inspection course material and a turn-key system for setting up your own home inspection business all for one low price. PHII provides all the resources and instructional materials you need to get started and allows you to take your time or push yourself through quickly.

PHII is North America's most respected home inspector training school. When you train with us, you interact directly with experienced staff and instructors at our school location who are here to help you, both before and after you enroll. Optional home inspection field training labs can be taken by students for no additional fee, as scheduled at our training facility, and can be taken at anytime during or after your training. Call us at 800-983-6322 to learn more.