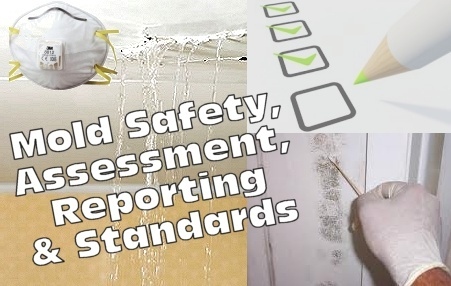 Length: 16-Hours (Online) Fees: $199

PHII's Online Mold Safety, Assessment, Reporting & Standards Course is 16 hours and provides an overview of what mold is, how exposure can affect your health, where mold grows in homes and how a certified mold inspector investigates and reports on it. The course also explains the National Association of Mold Remediator and Inspectors (NAMRI) Standards of Practice. The course is a good introduction for home inspectors and others in the real estate field who may want to expand into indoor air quality (IAQ) inspections or later pursue mold certification training. The course focuses on the major topics that are most important to residential home inspectors.

This course will help home inspectors quickly understand how mold can affect their clients and why the client should consider having a mold inspection performed prior to closing. It is also a good refresher course for mold professionals who want to brush up on their mold knowledge or complete continuing education requirements for licensing renewal.

The course, available online only, illustrates, and explains the most important components of mold safety, assessment and reporting in a simple, straight-forward manner. As you complete each lesson, you will use interactive flash cards and take practice quizzes that will test your knowledge, generate instant feedback and provide opportunities to correct mistakes, re-learn information and re-test. Our system keeps track of your progress, so you can take a break at any time, even turn off your computer and the course will return to where you left off. When you finish the course and pass the final exam, you will feel more confident and informed about mold-related issues.

Attention Licensed Mold Assessors and Mold Remediators in Florida:
For Florida mold assessor or remediator license renewal, this course has been approved for 16 hours of continuing education by the Florida Department of Business and Professional Regulation Mold-related Services (MRS) Licensing Unit, course No. 000161. (Includes 6 hours moisture intrusion, 5 hours mold/mold safety, 2 hours report writing, and 3 hours standards of practice.)

61-31.504 Continuing Education Requirements for Biennial Renewal
(1) Prior to the expiration of each biennial licensure period, and as a condition for renewal of the mold assessor and/or mold remediator license, each person licensed pursuant to Chapter 468, Part XVI, Florida Statutes, shall complete a minimum of fourteen (14) hours of continuing education which shall include, at a minimum, all of the following subjects as they relate to the practice of mold assessment and/or mold remediation:
(a) A minimum of six (6) hours of instruction regarding water (moisture intrusion),
(b) A minimum of four (4) hours of instruction regarding mold and mold safety, to include respiratory protection,
(c) A minimum of two (2) hours of instruction regarding report writing,
(d) A minimum of two (2) hours of instruction regarding standards of practice.

We are an approved training provider for the State of Florida MRS (Provider #0005804) and can offer continuing education courses for license renewal in accordance with Rule 61G6-9.012(3), Florida Administrative Code. If you are taking this course for Florida mold license renewal credit (due every even year), upon course completion we will submit your CEC hours to the State of Florida through its online reporting portal, which will fulfill your 14-hour continuing education credits requirement due by July 31, of even-numbered years. Contact us after completing the course to verify that your hours were submitted to MRS.


Mold Basics Course Lessons
1. Mold Fundamentals
2. Mold Safety
3. Mold & Moisture
4. Standards of Practice
5. Report Writing
Final Exam


What You Will Master
Office Hours 8am - 8pm CST Mon-Fri, 9am - 1pm Sat. Call 605-427-2908