Mold Remediation Protocols Course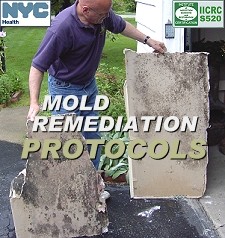 Length: 16-Hours (Online) Fees: $249 Sale $199

Our 16-hour, Mold Remediation Protocols continuing education course will teach you the recommended work practices that help ensure a successful large or small mold remediation project. In the absence of state or federal guidelines, it is up to the mold professional to decide which protocols to follow. Most remediation companies will follow procedures from one of two respected organizations:



The New York City Department of Health and Mental Hygiene (DOHMH) Guidelines on Assessment and Remediation of Fungi in Indoor Environments



The Institute of Inspection, Cleaning and Restoration Certification (IICRC) S520 Standard and Reference Guide for Mold Remediation.

PMII's Mold Remediation Protocols course summarizes, compares and contrasts the procedures from both organizations, so that you can make an informed choice that best suits your business. This 9-lesson course will help you gain an understanding of responsible work practices from both organizations that include: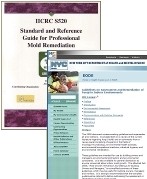 Written contracts and project documentation


How limitations and conflicts can affect a project


Determining which party should correct moisture problems


When to engage an indoor environmental professional (IEP)


Personal protective equipment (PPE) and containment


Methods of communication with affected parties


The treatment of high value and unrestorable contents


The use of disinfectants and gaseous biocides


Recommended and required types of worker training


The steps in work area preparation and containment removal


The sequence of activities for HVAC remediation

As you complete each lesson, you will use interactive flash cards and take practice quizzes that will test your knowledge, generate instant feedback and provide opportunities to correct mistakes, re-learn information and re-test. Our system keeps track of your progress, so you can take a break at any time, even turn off your computer and the course will return to where you left off. When you finish the course and pass the final exam, you will possess the knowledge and skills needed to determine which set of protocols your mold remediation business will follow.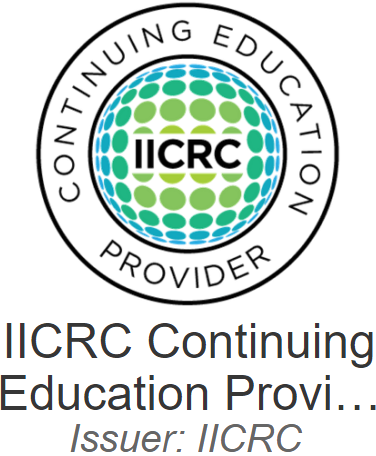 Continuing education credits. This course qualifies for (14) Continuing Education Units from the Institute of Inspection Cleaning and Restoration Certification (IICRC). Mold Remediation Protocols Course for ptofessional mold remediators.



Disclaimer: The IICRC does not endorse any educational provider, product, offering, or service. The Institute expressly disclaims responsibility or warranty for third-party publications, products, or instruction. The approved status does not award IICRC Certification.



Mold Remediation Protocols Course Lessons
1. Guideline vs. Standard
2. Terminology
3. Compliance & Documentation
4. Role of the IEP
5. Remediation Principles
6. Contents Remediation
7. NYC Structural Remediation
8. S520 Structural Remediation
9. HVAC Remediation


What You Will Master

Writing contracts and documenting projects


The role of an Indoor Environmental Professional (IEP)


Requirements for personal protective equipment (PPE) and containment


Treatment methods, area preparation and removal


And much more

Package Includes:
Online Course Access, Report Templates, Online Flashcards & Testing, Certificate, Toll Free Student Support.
Free Bonuses: $149 InspectHost Business Website, $149 1-year NAMRI Membership. Training is 100% online, no materials are shipped.
Office Hours 8am - 8pm CST Mon-Fri, 9am - 1pm Sat. Call 605-427-2908