Residential Mold Inspection Course
Price: $299 Length: 90-Hours (Online)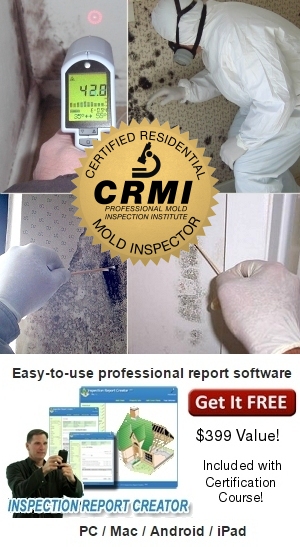 Our 90-hour, comprehensive Certified Residential Mold Inspector (CRMI) course contains lessons on how to inspect for mold on residential property. You will learn how to identify and assess mold damage, how to collect samples, and the recommended remediation protocols. You will also learn how to report on the presence of mold using national standards of practice.

This in-depth, 15-lesson course will help you learn the skills and knowledge necessary to start a mold inspection career. You will not only learn about mold, but how to inspect and write up your reports. You will learn about how mold affects the human body, which kinds of molds are dangerous, how to submit samples to a laboratory for analysis, and much more.

As you complete each lesson, you will use interactive flash cards and take practice quizzes that will test your knowledge, generate instant feedback and provide opportunities to correct mistakes, re-learn information and re-test. Our system keeps track of your progress, so you can take a break at any time, even turn off your computer and the course will return to where you left off.

The course includes a 2-hour mold DVD also available online, that takes you through a complete mold inspection as outlined in the course. You can use the provided report templates to create reports for your clients or use the free mold report software we include with the course. When you finish the course and pass the final exam, you will be a Certified Residential Mold Inspector (CRMI) and possess the knowledge and skills needed to start a full or part-time business.



IICRC Approval: Certified Residential Mold Inspection Course (CRMI) (#1856) – 14 CREDIT HOURS Certification course for residential mold inspection / mold assessment. Continuing education credits.




Residential Mold Inspection Course Lessons
1.Common Terminology
2.Understanding Mold
3.Effects on Humans
4.Effects on Homes
5.Detection Equipment
6.Mold Sampling
7.Standards of Practice
8.Grounds Inspection
9.Exterior Inspection
10.Structure Inspection
11.Plumbing Inspection
12.Interior Inspection
13.HVAC Inspection
14.Mold Reporting
15.Mold Treatment
Mold Course Objectives


What You Will Master

Mold identification, prevention, and control


National Standards of Practice for mold inspections


How and where to find mold in the home


The Code of Ethics for mold inspectors


How to complete a mold inspection report


And much more



Package Includes:
Online Course Access and optional back-up CD, Mold Inspection DVD, Report Templates, Online Flashcards & Testing, CRMI Certificate,Toll Free Student Support.
Free Bonuses: $399 Mold Inspection Report Creator, $149 InspectHost Business Website, $149 1-year NAMRI Membership
30-Day Money-Back Guarantee
Before you enroll in any home inspection school, will they guarantee your satisfaction unconditionally a month later?



We do. That's the PHII difference!



1-800-983-6322

© PHII Home Inspection Training and Certification. All Rights Reserved.