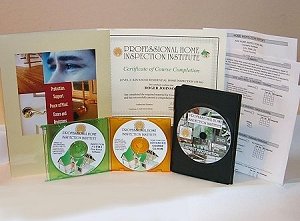 Length: 32-Hours (Online) Fees: $395

PHII's Online Advanced Course is 32 hours and contains 13 lessons with over 600 test questions and flashcards that provide continuing education and exam preparation for home inspectors who have already obtained home inspector certification. This course is excellent preparation for exams such as the National Home Inspector Examination (NHIE).
Course lessons take an in-depth look at light construction systems, components and code requirements that home inspectors will need to know to pass the NHIE.

The course also covers home inspection report analysis, business operations, liability, professional ethics and ancillary inspections such as swimming pools and lawn irrigation systems, that while not required for a home inspection, are required topics for taking the NHIE.

What our students say:
"I just wanted to let you know that I scored 634 on the National Home Inspector Examination (500 is passingand 95% on the state "Statutes and Rules" examination . . . I'm very pleased with the course I took from you; it was exactly what I needed to prepare for these tests." Ed, Milwaukee, WI

As you complete each lesson, you will use interactive flash cards and take practice quizzes that will test your knowledge, generate instant feedback and provide opportunities to correct mistakes, re-learn information and re-test. Our system keeps track of your progress, so you can take a break at any time, even turn off your computer and the course will return to where you left off.

When you finish the course and pass the final exams, you will possess the knowledge and skills needed to pass many different types of exams. You will aso feel more confident and informed about all areas of residential home inspection.


Advanced Home Inspection Course Lessons
1. Structural Systems
2. Exterior & Site Conditions
3. Roof & Chimney Systems
4. Plumbing Systems
5. Electrical Systems
6. Insulation Systems
7. Ventilation Systems
8. Interior Components & Appliances
9. Heating & Fireplace Systems
10. Cooling Systems
11. Pool & Irrigation Systems
12. Analysis and Reporting
13. Business Operation and Ethics


What You Will Learn:
The building codes typically covered on state and national home inspector exams.
Potential hazards such as EIFS, Aluminum wiring, and Polybutylene Supply Piping
An in-depth look at many HVAC systems.
How to complete an exceptional home inspection report that conforms to national standards.
And much more
Package Includes:
Online Course Access and optional back-up CD, Online Flashcards & Testing, Certificate of Completion, Companion DVD, Toll Free Student Support.
Free Bonuses: $149 InspectHost Business Website, $289 1-year AHI Membership. Value Added: $438

*$0 When Added to Home Inspector Certification Course
Office Hours 8am - 8pm CST Mon-Fri, 9am - 1pm Sat. Call 605-427-2908