Environmental Hazards Course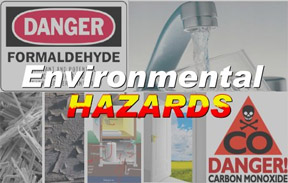 Length: 8-Hours (Online) Fees: $199

PHII's Online Environmental Hazards Course is 8 hours and covers asbestos, carbon monoxide, formaldehyde, lead and radon. While these hazards are outside the scope of a typical home inspectioner, many homebuyers and homeowners are concerned about these dangerous and sometimes life threatening hazardous materials existing in their homes and for that reason, environmental hazard inspections are often included as an additional service when someone purchases a home inspection.

This course is an introduction to environmental hazards as they relate to the housing and construction industry. Each lesson identifies a specific hazard, how to recognize it, how people become exposed to it, how to test for it, and ways to mitigate the problem. After completing the course, you will be more aware of the environmental risks that exist and how to ?protect yourself and others. You will also learn if a license or certification is required to conduct professional testing or abatement services for clients.



The course is accepted for continuing education by most home inspector associations. As you complete each lesson, you will use interactive flash cards and take practice quizzes that will test your knowledge, generate instant feedback and provide opportunities to correct mistakes, re-learn information and re-test. Our system keeps track of your progress, so you can take a break at any time, even turn off your computer and the course will return to where you left off. When you finish the course and pass the final exam, you will feel more confident and informed about environmental hazards.



IICRC Approval: Environmental Hazards Course - 7 CREDIT HOURS Certificate course for environmental hazards as they relate to home inspection. Continuing education credits.


Environmental Hazards Course Lessons
1. Indoor Air Quality
2. Asbestos
3. Carbon Monoxide
4. Formaldehyde
5. Lead
6. Radon
7. Water Quality


What You Will Master

Sources of indoor air pollutants


Asbestos properties, testing and abatement


Carbon monoxide sources and prevention


Formaldehyde exposure and mitigation


Sources of lead poisoning in homes


Understanding radon testing procedures


Water quality testing procedures



Package Includes:
Online Course Access, Online Flashcards & Testing, Certificate, Toll Free Student Support. Training is 100% online, no materials are shipped.
Free Bonus: $149 InspectHost Business Website
Office Hours 8am - 8pm CST Mon-Fri, 9am - 1pm Sat. Call 605-427-2908