Simple Home Construction Course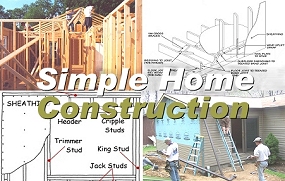 PHII's Online Simple Home Construction is 8 hours and provides an overview of how typical single family dwellings have been constructed during the last century. It follows the basic order of home construction from the foundation to the framing to elements of the interior rough-in, identifying important components and how they are assembled. The course focuses on the major elements that are most important to residential home inspectors.

Trying to immediately learn every system and component involved with home construction takes many hours and can be overwhelming. Since many elements of construction build on each other, this course focuses on the major ones, allowing you to keep each system fresh in your mind as you learn about the next. This course will help new inspectors quickly learn the basics of how a home is constructed and the name and location of each component. It is also a good refresher course for professionals who want to brush up on home construction or complete continuing education requirements.

The course defines, illustrates, and explains the most important components of home construction in a simple, straight-forward manner. As you complete each lesson, you will use interactive flash cards and take practice quizzes that will test your knowledge, generate instant feedback and provide opportunities to correct mistakes, re-learn information and re-test. Our system keeps track of your progress, so you can take a break at any time, even turn off your computer and the course will return to where you left off. When you finish the course you will feel more confident and informed about how homes are constructed.


Simple Home Construction Course Lessons
1. Common Foundations
Basements, Crawlspaces, Slab-on-Grade, Footers, Piers, Piles
2. Building the Frame
Framing methods, Floor frames, Roof systems, Assembly sequences, Exterior finishes
3. Inside the House
Interior rough-in, Insulation & Windows, Finishing Walls & Trim, Mechanical systems


What You Will Master

Types of foundations and how they are constructed


Below grade walls and general framing methods


The sequence of construction for floor systems


Roof systems, finishes and water management


Interior rough-in of normal house components


The interdependence of a home's systems


And much more



Package Includes:
Online Course Access and optional back-up CD, Online Flashcards & Testing, Certificate of Completion, Toll Free Student Support.
Free Bonus: $149 InspectHost Business Website
30-Day Money-Back Guarantee
Before you enroll in any home inspection school, will they guarantee your satisfaction unconditionally a month later?



We do. That's the PHII difference!



1-605-427-2908

© PHII Home Inspection Training and Certification. All Rights Reserved.