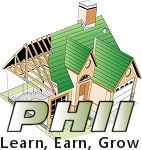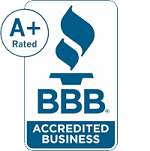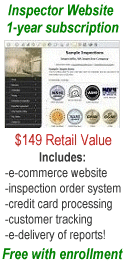 North America's leader in home inspector training


My Account

Call 800-983-6322

Order/Enroll

PROFESSIONAL HOME INSPECTION INSTITUTE

How to Become a Licensed Home Inspector in Mississippi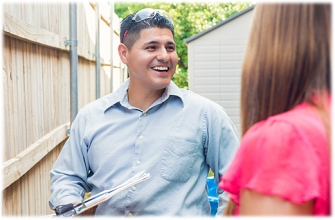 PHII's Online Home Inspection Course is approved for all pre-license education requirements in Mississippi. The law requires 1) 60 hours of approved education which can include field training, 2) passing the National Home Inspector Examination, and 3) a certificate of insurance for errors and omissions and general liability. Inspectors must also obtain 20 hours of continuing education every 2 years.

PHII will give you a nationally recognized home inspector certification and the credentials you need to become a successful home inspector in Mississippi.

PHII's Certification Course is approved to cover the required training hours and PHII students also receive FREE continuing education credits with your enrollment! Please check the website periodically for updates about current licensing laws or call toll free (800) 983-6322


Mississippi Home Inspector Certification
And over $1,000 in BONUSES!
$199 Free NSHI Membership!
$149 Free InspectHost Website!
$395 Free Advanced Course!
$399 Free Report Software!
| | |
| --- | --- |
| | $100 OFF! |
All for Only $595 View Offer



State Board:
State of Mississippi Home Inspector Regulatory Board
2506 Lakeland Drive, Suite 300
Flowood, MS 39232
Pamela Roy (601) 932-9191
proy@mrec.state.ms.us
Approved:
Yes
Training Provider:
Professional Home Inspection Institute
1533 NW 2nd St, Madison, SD 57042
http://www.homeinspectioninstitute.com
Toll Free 800-983-6322
Included in PHII's Mississippi Home Inspector Training
Home inspection topics covered in our Mississippi home inspector certification program
Each home inspection lesson starts by listing the objectives you will learn, followed by a short practice quiz to check your prior knowledge, the lesson content, a review and a quiz. Below are the subjects that you will master for each lesson of the home inspection certification course. All course objectives are aligned with national standards of practice for home inspectors.
Introduction to Home Inspection Terminology - Overview of the common language used throughout the home inspection industry by licensed home inspectors
Limits and Exclusions for Home Inspection - Pre-inspection agreements and liability during a home inspection, understanding home inspector responsibilities
Site, Grounds and Grading - Components outside the home including paving, vegetation, ground slope and drainage, decks, steps and porches that apply to a home inspection
Exterior and Structure - Foundation, chimneys, trim and siding, doors and windows, eaves, soffits, and down spouts
Roof Components - Types and styles, roof materials and home inspection methods, flashing and gutters, skylights for a typical home inspection
Plumbing Systems - Water and fuel service type, size and location, waste and vent pipes, kitchen and bathroom faucets and fixtures, water heaters
Electrical Systems - Service entrance location and capacity, inspecting panels and branch circuits, wire gauges, determining grounding and bonding, ground fault interrupters (GFIs), outlets, fixtures, switches and smoke detectors
Attic Inspection - Attic access methods, roof framing and sheathing, insulation types, ventilation methods, roof vent pipes, defects and moisture issues
Insulation & Ventilation - R Factor, vapor retarders, crawl space and below-grade ventilation, theory of exhaust and plumbing ventilation as it applies to home inspection
Interior Components - Home inspection methods and standards for walls and rooms, bedroom egress, windows, types of doors, stairs and railing, defects, fire places.
Bathrooms and Kitchens - Toilets, sinks, ventilation, bathtubs, showers, flooring, GCFI protection, defects and moisture damage, cabinets, counters, flooring, built-in appliances following home inspection industry standards
Basement & Crawlspace - Type and entry methods, evaluating foundation and supports, stairs, flooring, walls, ceiling, exposed insulation, vapor barriers, evaluating joists, trusses, sub floors, floor drains and sump pumps
Heating and Air Conditioning - Location(s), fuel type(s), age, capacity, distribution methods, heat exchangers, combustion venting, humidifiers, air filters, evaporator and condenser coils, supplemental heat, electrical disconnect home inspection standards
Garage and Carport - Home inspection standards for identifying structure type, attached, detached, door openers, floors ceiling walls, ventilation, safety features, separation wall, door to a living space, ventilation, GFI protection
Conducting a Home Inspection - Pre home inspection agreements, professional behavior, procedures with clients, home inspection methodology, home inspection tools, written report, follow-up
Home Inspection Business Start-Up - Registration for home inspection business, website set-up, payment processing, pricing services, business vehicle, ladders and basic tools, electronic tools, sales tax and write-offs, filing requirements, state tax I.D. number, records, profit, cash flow, advertising, brochures, tracking ads, customer service
Mold and Allergens - Mycotoxins and pathogenic molds, sources and outbreaks, collecting samples during home inspection, client agreements, findings, common allergens, health effects, mitigation procedures, how to become a mold certified home inspector
Radon in Air and Water - Properties of radon, health effects, how radon enters buildings and water supplies, measurement, elevated/unsafe levels, seasonal effects, mitigation methods, how to become a radon certified home inspector
Commercial Inspections - Types of commercial home inspections, challenges, ASST. E2018-01 guidelines, property condition assessment (CPA) reports, walk-through survey, home inspector vs. a field observer, entering the market, referrals, liability, how to become a home inspector with commercial certification
After passing PHII's home inspector exam and meeting any other state requirements, you will be well-qualified to perform residential home inspections in Mississippi.
Frequently Asked Questions About Our Mississippi Home Inspection Training Program
How long does your home inspection course for Mississippi take?
PHII's Mississippi home inspection course can be completed in 1-2 weeks based on your past level of experience. However, you can take as much time as needed, and there are no limits on re-taking exams. The total course time for training in Mississippi is broken up into hours for course instruction, field assignments, report writing and testing. PHII's Mississippi course allows you to take your time or push yourself through quickly.
How much does the Mississippi home inspection training cost?
Professional Home Inspection Institute will teach you how to become a home inspector in Mississippi for the lowest average tuition rate in the industry. The course comes complete with all required instructional materials including 100% online access, workbook, back-up CDs, DVDs, and other materials you need to become a home inspector in Mississippi . You can view the current prices by clicking the link on this page or by calling 1-800-983-6322.
What is home inspection errors and omissions insurance?
Home inspectors in Mississippi should consider getting Errors and Omissions (E&O) insurance, which is a professional liability policy covering the policyholder for negligent acts and omissions that occur during an inspection. A good Errors and Omissions liability policy can help limit your out-of-pocket expenses if you are named in a lawsuit in Mississippi should a problem occur with a home inspection. Our coursework is approved for Mississippi home inspector errors and omissions insurance by major insurance underwriters.
Why should I choose PHII for home inspection training?
PHII gives Mississippi residents interactive training, experienced support, a lot of value and the most affordable tuition in the industry. Plus we offer a satisfaction guarantee. Over the years we have successfully trained thousands of home inspectors throughout the U.S. and Canada, including many home inspectors in Mississippi. We have been there to support our students from Mississippi during and after the training. We have up-to-date Mississippi home inspection course material, and we provide a turn-key system for setting up your own home inspection business in Mississippi.
Questions about home inspection course enrollment?
Call us toll-free at 800-983-6322

PHII Mississippi Home Inspection School


Free 1-YEAR NSHI Membership for Mississippi Graduates
All Mississippi home inspector graduates receive a free 1-year membership in the National Society of Home Inspectors (NSHI), a non-profit professional home inspector association.


30-Day Money-Back Guarantee
Before you enroll in any home inspection school, will they guarantee your satisfaction unconditionally a month later?



We do. That's the PHII difference!



1-800-983-6322