$399 Report Software, $395 Bonus Courses, $149 Business Website, $289 AHI Membership.

Welcome to PHII's Georgia Home Inspection School. PHII delivers unmatched home inspection training led by experienced instructors who are here for one reason only, to help you succeed. Our nationally certified home inspection course will teach you how to become a Georgia home inspector through online coursework, testing, and hands-on field study. You will learn the basic fundamentals of home inspection that comply with national standards of practice.
With over 20 years in business and the first school to offer online training for home inspectors, PHII has helped many people in Georgia and thousands of others nationwide, start successful home inspection careers. This is because we offer the best online home inspection training available. Plus we consistently update our online course materials as the industry changes.
How the Home Inspection Training Works
We use a step-by-step training process to make home inspection simple to learn. All of our Georgia online home inspection training options include the same lessons, field inspection assignments and report writing as our classroom course. We even include free home inspection report software so that you can practice creating reports while taking the home inspector course in Georgia. Our experienced, on-site instructors are always here to help you every step of the way. Plus we include lessons on mold and allergens, radon, and commercial inspections so you can learn how to expand your business in Georgia by offering new services.
PHII's online home inspection course for Georgia delivers all of the advantages of our classroom training course for a fraction of the cost. We use a proven interactive learning solution with lesson pre-tests and post-tests, flash cards, audio instruction, video, and feedback along with the human support element that is so critical to success. Our Georgia home inspection training course is self-paced, but you are never alone.
As you go through the course, you will master the learning objectives for each lesson that correspond to a national standard of practice for home inspection that applies to Georgia home inspectors. No previous experience is required to understand the components and systems of a home and learn how to visually inspect them. You can take as long as you need, however those with experience in the building trades will generally finish faster.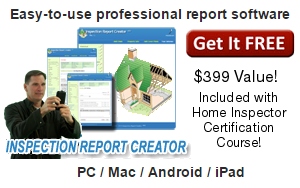 As you complete each lesson, you will use interactive flash cards and take practice quizzes that will test your knowledge, generate instant feedback and provide opportunities to correct mistakes, re-learn information and re-test. Our system keeps track of your progress, so you can take a break at any time and the course will return to where you left off. You can perform the hands-on field activities on your own home or any residential home in Georgia to test your knowledge in a real world setting.
Why Choose PHII for Georgia Home Inspection Training
PHII teaches you what to inspect, how to inspect it, and how to write a home inspection report in Georgia. We give you the knowledge, instructor support and hands-on practice necessary to become a successful Georgia home inspector. After you pass the final exam and field assignment, you will be confident that you possess the knowledge and skills needed to begin your career as a professional home inspector in Georgia.
If you are thinking about a career change, consider PHII's Georgia online home inspection training course and earn your Georgia professional home inspector certification in your spare time using any mobile device. PHII provides everything you need to learn how to become a home inspector in Georgia at the best tuition price in the industry and with your satisfaction guaranteed.
Included in PHII's Georgia Home Inspector Training and Certification Program
Each home inspection lesson starts by listing the objectives you will learn, followed by a short practice quiz to check your prior knowledge, the lesson content, a review and a quiz. Below are the subjects that you will master for each lesson of the Georgia home inspection certification course. All course objectives are aligned with national standards of practice for home inspectors. After passing PHII's home inspection exam and meeting any other state requirements, you will be well-qualified to perform residential home inspections in Georgia
Introduction to Home Inspection Terminology -Overview of the common language used throughout the home inspection industry by licensed home inspectors
Limits and Exclusions for Home Inspection - Pre-inspection agreements and liability during a home inspection, understanding home inspector responsibilities
Site, Grounds and Grading - Components outside the home including paving, vegetation, ground slope and drainage, decks, steps and porches that apply to a home inspection
Exterior and Structure - Foundation, chimneys, trim and siding, doors and windows, eaves, soffits, and down spouts
Roof Components - Types and styles, roof materials and home inspection methods, flashing and gutters, skylights for a typical home inspection
Plumbing Systems - Water and fuel service type, size and location, waste and vent pipes, kitchen and bathroom faucets and fixtures, water heaters
Electrical Systems - Service entrance location and capacity, inspecting panels and branch circuits, wire gauges, determining grounding and bonding, ground fault interrupters (GFIs), outlets, fixtures, switches and smoke detectors
Attic Inspection - Attic access methods, roof framing and sheathing, insulation types, ventilation methods, roof vent pipes, defects and moisture issues
Insulation & Ventilation - R Factor, vapor retarders, crawl space and below-grade ventilation, theory of exhaust and plumbing ventilation as it applies to home inspection
Interior Components - Home inspection methods and standards for walls and rooms, bedroom egress, windows, types of doors, stairs and railing, defects, fire places.
Bathrooms and Kitchens - Toilets, sinks, ventilation, bathtubs, showers, flooring, GCFI protection, defects and moisture damage, cabinets, counters, flooring, built-in appliances following home inspection industry standards
Basement & Crawlspace - Type and entry methods, evaluating foundation and supports, stairs, flooring, walls, ceiling, exposed insulation, vapor barriers, evaluating joists, trusses, sub floors, floor drains and sump pumps
Heating and Air Conditioning - Location(s), fuel type(s), age, capacity, distribution methods, heat exchangers, combustion venting, humidifiers, air filters, evaporator and condenser coils, supplemental heat, electrical disconnect home inspection standards
Garage and Carport - Home inspection standards for identifying structure type, attached, detached, door openers, floors ceiling walls, ventilation, safety features, separation wall, door to a living space, ventilation, GFI protection
Conducting a Home Inspection - Pre home inspection agreements, professional behavior, procedures with clients, home inspection methodology, home inspection tools, written report, follow-up
Home Inspection Business Start-Up - Registration for home inspection business, website set-up, payment processing, pricing services, business vehicle, ladders and basic tools, electronic tools, sales tax and write-offs, filing requirements, state tax I.D. number, records, profit, cash flow, advertising, brochures, tracking ads, customer service
Mold and Allergens - Mycotoxins and pathogenic molds, sources and outbreaks, collecting samples during home inspection, client agreements, findings, common allergens, health effects, mitigation procedures, how to become a mold certified home inspector
Radon in Air and Water - Properties of radon, health effects, how radon enters buildings and water supplies, measurement, elevated/unsafe levels, seasonal effects, mitigation methods, how to become a radon certified home inspector
Commercial Inspections - Types of commercial home inspections, challenges, ASST. E2018-01 guidelines, property condition assessment (CPA) reports, walk-through survey, home inspector vs. a field observer, entering the market, referrals, liability, how to become a home inspector with commercial certification
What You Will Master

The major components and systems of a home.

What to inspect, how to inspect it, and what not to inspect.

How to complete a professional inspection using a pre-inspection agreement, checklist, and tools of the trade.

Completing and presenting a professional report to your client

How to market your services and expand your business in Georgia.

And much more
Georgia Home Inspection Training Package Includes:
Online Home Inspector Course for Georgia with online library of Inspection Documents, Student Manual, and online DVDs, Toll Free Student Support. Training is 100% online, no materials are shipped. Optional printed back-up materials and courses/videos on USB stick are available.
Free Bonuses:
$399 Home Inspection Report Creator, $395 Bonus Courses, $149 InspectHost Business Website, $289 1-year AHI Membership for Georgia home inspector graduates.



Free AHI Membership for Georgia Home Inspector Graduates
As a gold-level AHI-accredited training provder, PHII can offer all Georgia home inspection course graduates a free $289 membership in the North American Association of Home Inspectors (AHI), a national non-profit professional home inspector association.