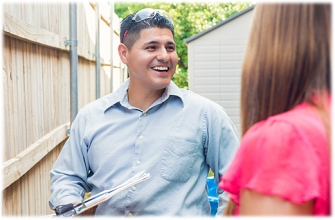 PHII's Online Home Inspection Training and Certification Course meets all Georgia requirements for home inspectors including the Georgia Trade practice act (Chapter 3, Title 8) enacted in 1994 that establishes a required standard of care. The law requires home inspectors to provide written documents with the following: 1) must include the scope of the inspection; 2) include structural elements and the systems to be inspected; 3) state that it is a visual inspection; 4) that they will notify the person in writing of any defects.

PHII will give you a nationally recognized home inspector certification and the credentials you need to become a successful home inspector in Georgia. PHII students have also had great success passing regional and national exams, and you also receive FREE continuing education credits with your enrollment! Please check the website periodically for updates about current licensing laws or call toll free (800) 983-6322

PHII's course provides the education needed to successfully meet the requirements of the GA Trade Practice Act. PHII's Forms and Report Software also conform to the requirements of the act.


Georgia Home Inspector Certification
And over $1,000 in BONUSES!
$199 Free NSHI Membership!
$149 Free InspectHost Website!
$395 Free Advanced Course!
$399 Free Report Software!
| | |
| --- | --- |
| | $100 OFF! |
All for Only $595 View Offer



State Board:
Sec. of State, Construction Industry License Board
478.207.2440 (Board Offices)
478.207.1300 (Other Offices)
478.207.1363 (FAX)
Approved:
Yes
Training Provider:
Professional Home Inspection Institute
1533 NW 2nd St, Madison, SD 57042
http://www.homeinspectioninstitute.com
Toll Free 800-983-6322
Frequently Asked Questions:

How long does the Georgia course take?
PHII's Georgia home inspection course can be completed in 1-2 weeks based on your past level of experience. However, you can take as much time as needed, and there are no limits on re-taking exams. The total course time for training in Georgia is broken up into hours for course instruction, field assignments, report writing and testing. PHII's Georgia course allows you to take your time or push yourself through quickly.

How much does the Georgia home inspector training cost?
Professional Home Inspection Institute will teach you how to become a home inspector in Georgia for the lowest average tuition rate in the industry. The course comes complete with all required instructional materials including 100% online access, workbook, back-up CDs, DVDs, and other materials you need to become a home inspector in Georgia . You can view the current prices by clicking the link on this page or by calling 1-800-983-6322.

What is errors and omissions insurance?
Home inspectors in Georgia should consider getting Errors and Omissions (E&O) insurance, which is a professional liability policy covering the policyholder for negligent acts and omissions that occur during an inspection. A good Errors and Omissions liability policy can help limit your out-of-pocket expenses if you are named in a lawsuit in Georgia should a problem occur with a home inspection. Our coursework is approved for Georgia home inspector errors and omissions insurance by major insurance underwriters.

Why should I choose PHII?
PHII gives Georgia residents interactive training, experienced support, a lot of value and the most affordable tuition in the industry. Plus we offer a satisfaction guarantee. Over the years we have successfully trained thousands of home inspectors throughout the U.S. and Canada, including many home inspectors in Georgia. We have been there to support our students from Georgia during and after the training. We have up-to-date Georgia home inspection course material, and we provide a turn-key system for setting up your own home inspection business in Georgia.

Questions about course enrollment?
Call us toll-free at 800-983-6322


PHII Georgia Home Inspection School


Free 1-YEAR NSHI Membership for Georgia Graduates
All Georgia home inspector graduates receive a free 1-year membership in the National Society of Home Inspectors (NSHI), a non-profit professional home inspector association.